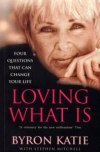 Byron Katie
Loving what is (Älska livet som det är)
The work of Byron Katie is a deeply transformative process of inquiry. It is principally based on four questions:
1. Is it true?
2. Can you absolutely know that it's true?
3. How do you react when you believe that thought?
4. Who would you be without the thought?